Comics are a funny business. Whereas movies, TV and video games are all up front with their impending projects, the comics industry is more closely guarded, often only soliciting their coming titles and events months in advance. So, if you're wondering why most of these items don't have solid release dates, it's because we simply don't know yet. But rest assured, these are the projects that have greased our gears for the coming year, and they better deliver. It's our last full year before the apocalypse.

Batman: Earth One OGN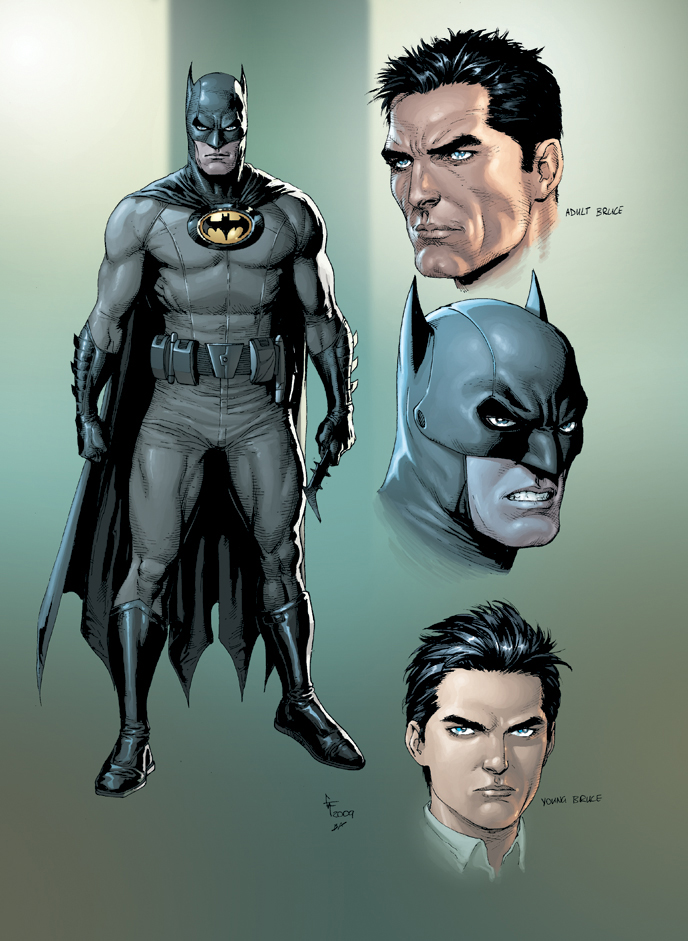 Even though J. Michael Straczynski's Superman: Earth One was a miserable critical failure (for us, anyway — read our review of Superman: Earth One), the book sold through the roof and even got a sequel fast tracked (JMS is a Dinosaur). However, announced alongside of Superman: Earth One back in 2009 was Batman: Earth One by Geoff Johns and Gary Frank. Even at inception, Batman: Earth One was far more interesting, as it seems to be taking a completely different approach to Bruce Wayne's first excursions as Batman, instead of just rehashing the same old story with throwaway villains like JMS did. There's no release date set, but we're anxious to see Johns and Frank tackle The Dark Knight.
Flashpoint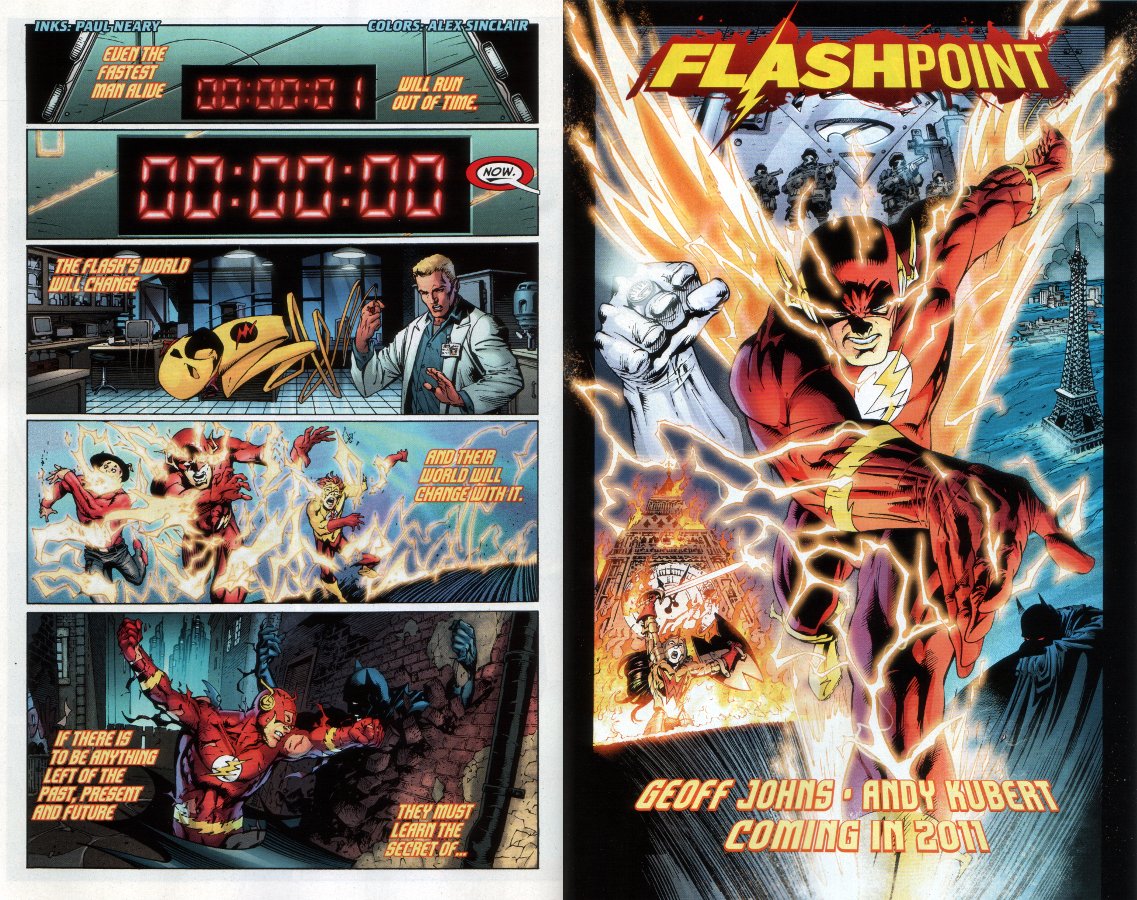 Earlier this year, I debuted an article called Over Analyzing: DC's Flashpoint Teaser, a piece breaking down the possibilities of what the upcoming Geoff Johns/Andy Kubert series could hold for 2011. While a lot of my theories have since been discouraged by the ongoing events of the DCU and words spoken by the creators themselves, the (flash)fact remains that a Flash-focused event is on the horizon for 2011.
The Death of Spider-Man
Love or hate the "death and return" stories that comic publishers love to pump out, it's no secret they sell like hookers in a brothel. That seems to be what Marvel is banking on, with their announcement of "The Death of Spider-Man" in the Ultimate Universe. Fronted by superstars Brian Michael Bendis and Mark Millar, the tale will surely be a hit, and despite our naysaying, we'll be on board just the same.



Daredevil: Reborn
One of the boldest things Marvel did in 2010 was turn Matt Murdock into a villain (even if he was merely possessed by a hate-demon). As repentance for his evil deeds, Murdock had his book cancelled (ending with #512…kind of), had Black Panther replace him as the Man Without Fear, and is being subjected to a Captain America-style rebirth. Coming in February, we'll see Marvel Comics give Matt Murdock a quest for redemption to right the wrongs he made during Shadowland.
BOOM!'s Superhero Titles
It's tough to create a new superhero universe when Marvel and DC dominate the market, but throw Stan Lee into the mix and it's a different ballgame entirely. BOOM! Studios teamed with the legendary creator in 2010 to create brand new heroes written by some of the best talent in the industry. Launching in the last months of the year, we're excited to see what BOOM! can do in 2011 to establish their new brands alongside the longtime industry mainstays.



Dark Knight: The Boy Wonder
It's been a long time coming, but Frank Miller and Jim Lee's All-Star Batman & Robin, The Boy Wonder is finally continuing, though re-branded as Dark Knight: The Boy Wonder. This confirms that the tale fits in continuity with Miller's other Batman tales, The Dark Knight Returns and The Dark Knight Strikes Again. Whether that's good or bad for you as a reader can only be answered internally. For me, however, I enjoyed the hell out of "The Goddamn Batman".



Batwoman
Though she was sorely missed from Detective Comics, Batwoman is returning in a brand new monthly series by JH Williams III, W. Haden Blackman, and Amy Reeder. Even if issue #0 was a bit disappointing (read our review of Batwoman #0), Kate Kane is a fan favorite character that deserves her due after a fair amount of floundering. We're just hoping that DC will give her a chance to survive on her own as a strong female lead.
Iconic Covers
Every January for the past few years, DC has done something special with their books for the entire month. This year, they are introducing the "Iconic Covers", which strip most books of their elaborate trade dress in favor of a simplified logo with the titular character(s) posed on the cover. It's an eye-catching idea that plays to the collectibility aspect of comic books. Surely, you'll just have to get them all.
Black Panther: Man Without Fear
In conjunction with the end of Shadowland and the "cancellation" of Daredevil, Black Panther is set to take over the role of the Man Without Fear starting with Black Panther: Man Without Fear #513. While the jury is out on what will transpire in Daredevil: Reborn, we're pumped to see a hero like Black Panther get his long deserved time in the spotlight of the Marvel Universe, and his interactions with the other superhero residents of New York City.



Ultimate Comics Captain America
Jason Aaron. Captain America. 'Nuff said.


Bendis & Maleev's Moon Knight
It's hard to remember Daredevil before Brian Bendis and Alex Maleev got hold of it, but it existed. I sense a similar feeling will wash over me once I get my hands on the duo's announced Moon Knight series. Though not confirmed for 2011, I'm being an optimist and hoping that it'll get delivered at some point next year. There's been a lot of stop-and-starting with Moon Knight as of late, and if any one is able to bring him down to a street level, psychologically damaged vigilante, it's these two.
Color me excited.