Every month, there is a wealth of new comics and comics-related product that hits our local comic book shops. While some of us may be able to afford to buy everything we see, the rest of us need to be a little more careful with what we spend our money on – especially in the modern economy and with the price of comics rising seemingly month after month. That's why CraveOnline has the Monthly Comics Guide, to help our readers gauge just where their money might be headed in the coming month.



What is worth checking out? What will give you the most bang for your buck? We've compiled various different sections that should pander to whatever type of reader you may be. First and foremost, we've got individual issues for those that collect the floppies from week to week. We're also introducing sections on collected editions and original graphic novels. Hopefully there is something for everyone, and we encourage your feedback, so contact us!



Please not that all entries are based on the month's issue of Previews, the comic retailer's order guide. It's possible that some books will be delayed – or even canceled – but we will do our best to stay up to date.

Single Issues
Freedom Fighters #1 (DC)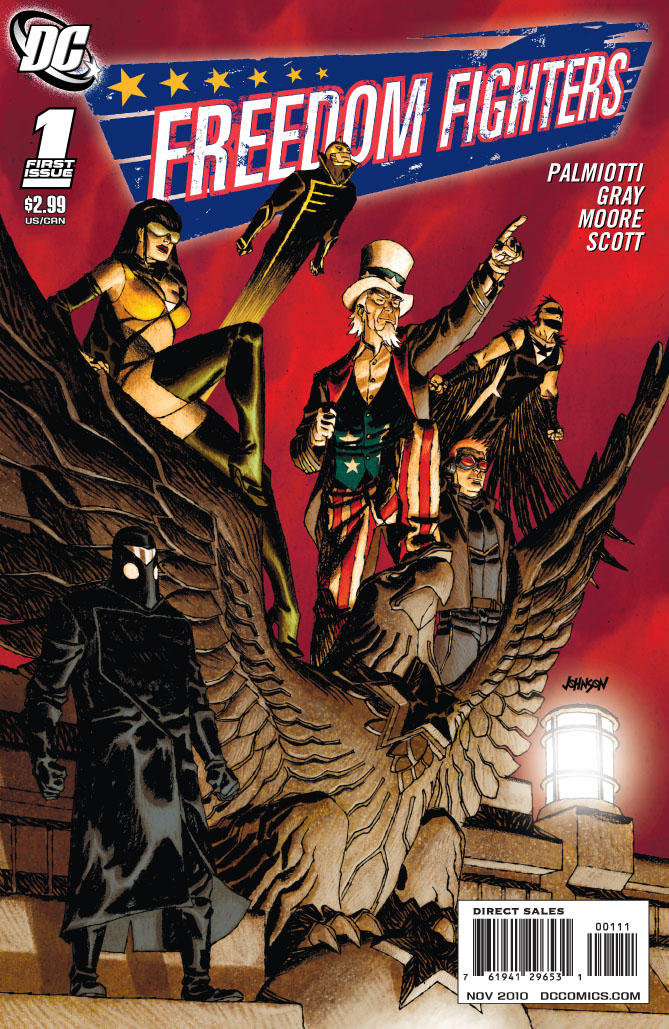 It's quite a patriotic month at DC Comics, and it kicks off with a brand new ongoing series from writing duo Justin Gray and Jimmy Palmiotti. We've seen them tackle the Freedom Fighters in two separate mini-series, but it seems DC was willing to take the gamble on giving the creators free reign for an ongoing. And hey, it worked with Jonah Hex. Freedom Fighters #1 comes out September 1.
War One-Shots (DC)


As I said, September is a patriotic month for DC. Each week this month, they are releasing a special one-shot return issue of some of their classic war comics, including Our Army at War, Weird War Tales, Our Fighting Forces, GI Combat, and Star Spangled War Stories. Each with creative teams that will make your eyes water, this is one of those instances where I remember why I love DC. Look for these titles throughout the month.



Batman: Return of Bruce Wayne #5 (DC)


I'll admit, even as a diehard Grant Morrison and Batman fan, that Return of Bruce Wayne has been rather hit or miss. Issue #5 sees Bruce landing in 1930s era Gotham City in the role of a private dick, playing up the character's noir sensibilities. Better yet, this issue has interiors by Ryan Sook, the best artist to contribute to the series since issue #1's Chris Sprouse. Batman: Return of Bruce Wayne #5 hits September 22.
American Vampire #6 (Vertigo)


With Stephen King's departure, Scott Snyder and Rafael Albuquerque are left on their own to tell the tale of Pearl and Skinner Sweet in American Vampire. As good as the opening arc was, it felt mostly like setup. I'm excited to dig into the real meat and potatoes of the story that begins with issue #6. It also doesn't hurt that this new arc takes place in a 1930s Las Vegas. Yes, please. American Vampire #6 is in stores September 9.



Scarlet #2 (Icon)


The first issue of Brian Michael Bendis and Alex Maleev's creator-owned series was balls out awesome. Bendis and Maleev felt back in their element, delivering an issue on par with their work on Daredevil. I'm excited to see where the story is headed, and as always, to see more incredible artwork from Mr. Maleev. Scarlet #2 is out September 1.
Amazing Spider-Man #642 (Marvel)


It may be a bit like watching a train wreck, but I can't help being curious about the post- "One Moment in Time" Spider-Man. After a few years of being a part of a massive retcon, with a mere four issues or so everything is back to "normal". Mary Jane is back in Peter's life, and now Norman Osborn's newborn son is stirring up a race for supervillains to get the first dose of pure Goblin blood. I've been a fan of Amazing Spider-Man as of late, despite its inconsistent nature, so hopefully the trend continues with issue #642. Amazing Spider-Man #642 is in stores September 9.



Hulk #25 (Marvel)


We know that Jeph Loeb and Ed McGuinness' Hulk has been reviled. By reviled, I mean absolutely detested. By absolutely detested, I mean it almost cancels out Loeb's iconic work on The Long Halloween. Almost. But fear not, because with issue #25 comes a brand new creative team in Jeff Parker and Gabriel Hardman, who will hopefully restore our faith in the big green (red?) guy. Hulk #25 is out September 22.
The Terminator: 1984 #1 (Dark Horse)


Typically, I'm not a fan of Terminator comics, as all they really do is either focus on uninteresting characters or complicate the continuity further than necessary. However, there must be something in the Whedon bloodline that allows them to enter franchises with a complex web of history and make it completely enjoyable. Joss Whedon did it with Astonishing X-Men, and now little bro Zack has done it with Terminator. Spinning out of The Terminator: 2029, 1984 follows Kyle Reese on the beginning of his mission to find a young Sarah Connor. The Terminator: 1985 #1 comes out September 29.



Sweets #3 (Image)


Kody Chamberlain's Sweets (read our review of Sweets #2) has been the fresh breath of air that Image Comics has needed. It's a talky, hard boiled detective story with a New Orleans twist. It's noir fused with a dirty grit and earthy color palette that makes it a unique experience from Image's current publishing roster. Sweets #3 comes out September 15.
Secret Six #25 (DC)


Gail Simone's Secret Six is the best book at DC right now, hands down. With the comic hitting a milestone 25 issues, you can be sure that there are big plans in store for are favorite no good antiheroes. Secret Six #25 is out September 1.



Collected Editions
Absolute Promethea Vol. 2 (WildStorm)


If you missed our review of Absolute Promethea Vol. 1 last year, just know this: there are few artists better suited for display in an Absolute Edition than JH Williams III. That's why the next volume of Williams and Alan Moore's ABC classic has us doing the pee dance of excitement. Collecting issues #13-23, Absolute Promethea Vol. 2 is a must read for anyone that needs a lesson in what the comics medium is capable of. Look for it September 29.
Marvelous Land of Oz HC (Marvel)


Eric Shanower and Skottie Young's Oz series of books have been a huge hit for Marvel, garnering critical acclaim, awards, and best-seller status. While I didn't enjoy Marvelous Land of Oz as much as the original series, it's still a beautiful, fun read for all ages that will be flipped through many times throughout the years, making this hardcover a hell of a value. Marvelous Land of Oz comes out in hardcover on September 15.



Franklin Richards: Son of a Genius Ultimate Collection Book 1 (Marvel)


It seems like it's just an all around kid friendly month for Marvel Comics. Collecting the hugely popular (and incredibly humorous) adventures of Franklin Richards from a series of one-shots a couple of years back, the Son of a Genius Ultimate Collection Book 1 is a nice surprise for Fantastic Four fans this September. If you want to get your kids into the FF, this is the first step. Franklin Richards: Son of a Genius Ultimate Collection Book 1 comes out September 29.
Four Color Fear: Forgotten Horror Comics of the 1950s (Fantagraphics)


When it comes to the classic horror comics from back in the day, often times it's only EC Comics that gets recognized for things like Tales from the Crypt. Fantagraphics is aiming to put an end to that, reprinting some long lost classics of the era. Including work from artists like Frank Frazetta, Jack Katz and George Evans, Four Color Fear will feature stories from publishers like Harvey, Ace, Ajax-Farrell, and Trojan. Look for Four Color Fear on September 22.



Original Graphic Novels
Cuba: My Revolution (Vertigo)


One of the Vertigo releases I've really been looking forward to this year, Inverna Lockpez and Dean Haspiel's Cuba: My Revolution is a semi-autobiographical look at a young woman caught between devotion for her country and her own ideals conflict with one another during the Castro regime of Cuba. All signs point to it being a poignant and emotional narrative that could be one of the best of the year. Toss into that the great artistry of Haspiel (The Alcoholic, Zuda's Street Code) and you've got an undeniable recipe for success. Cuba: My Revolution comes out September 9.