Did the girls get your attention? Good. Now let's talk holiday gifts…
This list is self explanatory. You're not going to find a more kick ass list than this if you're looking to buy a gift for someone that's a sports fan.

Tickets
We'll start out simple. Tickets make a great stocking stuffer for basketball games. If you live in a warm state, you can probably find some good deals on this season's upcoming NCAA bowl games as well. If you want to take it to another level and you're willing to spend the big bucks, consider season tickets. Just don't cry when you're husband spends more hours at the ball park than he does in your home, ladies.
Fantasy Camp
Do you want to see a grown man cry? Give him the opportunity to play with his child-hood heroes on the baseball diamond. Sure, you're paying thousands of dollars to play against legends that will probably be carrying their AARP card. But how many guys can say they stole a base off of Johnny Bench or turned a double play with Ozzie Smith?
Every MLB team has a camp available.
http://www.baseballfantasycampdirectory.com/
Sippin' Seat
A simple invention that has me scratching my head, asking, "why did it take mankind so long to invent this?!"
The description off Amazon says it all:
Sip effortlessly from out of your seat and say goodbye to long lines and over-priced drinks… This portable stadium seat is an absolute necessity for sneaking your drink of choice into any excursion where you need. Stadium seat conveniently disassembles for cleaning. Price includes seat, flask, and all accessories. Sippin' seat measures 13 x 13 x 2 and the soft plastic, hidden flask insert holds up to 24oz (750ml) 20 shots.
You mean the sorority girls heading to college football games no longer need to worry about duct taping flasks to their upper thigh?
Pure. Genius.
Those Guys Have All the Fun: Inside the World of ESPN
Any guy that's a real sports fan usually has his TV set to some form of ESPN on a permanent basis. If he wants to know what's happened behind the scenes at the 'mothership,' as former anchor Dan Patrick calls it, this book should be eye popping.
Neon Signs
The perfect addition to any man-cave. Heck, I would say it's actually a must. The only thing that would make this cooler is if you can find a local sign that has the beer sponsor to go with it (ie, Cardinals and Budweiser, Rockies and Coors, Bears and Pabst..etc.) But the only way to land one of those is probably to buy a bar or steal one; and I don't want anyone to end up behind bars. Anyone else see a DirecTV commercial plot here?
http://www.brightneonsigns.com/sports-neon-signs.html
Universal Remote with Bottle Opener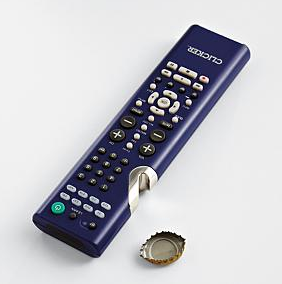 Put this in the genius column as well.
Tired of all the energy it takes to get up off the couch, only to walk all…the…way…to..the…kitchen, search for your bottle opener, crack your brewski open, then walk all the way back to the couch? I mean, you could miss THE play of the game. Or even worse, that commercial with the really hot chicks.
Here's the product description:
This all-in-one tool controls up to 8 devices and the strong, gripping bottle opener is designed to last season after season.
supports over 800 preset manufacture devices
manual searching and learning function
can be programmed to control 8 devices
needs 2 aaa batteries (not included)
Epic.
Classic Throwback Shirt
Not too many guys can pull off wearing the jersey. Sometimes jerseys can really be cool if it's a throwback; such as Joe Montana, Dick Butkus, Joe Namath, etc. However, most of the time guys come across tacky and childish. Better to go with the safe bet: a classic throwback t-shirt. It says style without saying trying too hard — or that you're actually a five year old trapped in a man's body.
MLB Homeroom Jacket
Another modern spin on a classic. I absolutely love the retro look and feel. These jackets aren't priced too bad at around $100.
---
Beer of the Month Club

For the beer lover, he or she would receive 12 bottles of premium microbrews — four different kinds — from award-winning breweries, nationwide, every month. Major score.
Ride Shotgun in a Stock Car
You read that correctly. Feel the need for speed? If you're willing to fork over the cash you can experience the force of hitting speeds at 150 MPH +.
http://www.cloud9living.com/stock-car-ride-alongs
Ballpark Blueprint Art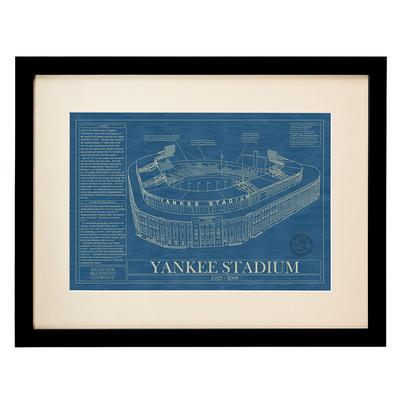 The perfect piece of art work for the sports fan. The blue prints keep it classy by showing off the history and science that goes into the planning of a ballpark. It also shows you're allegiance without making you post one of those ridiculous Fat Heads on your wall.
http://www.uncommongoods.com/product/ballpark-blueprints
http://www.ballparkblueprints.com/Welcome.html
Nike + Sports Watch
If you're gift recipient likes to run, this is a must-have. In my humble opinion, the Nike + sports watch is the sickest piece of technology in the open sports market. Here's what it does:
GPS by TomTom provides accurate speed and distance data while running outdoors
Measures your time, distance, pace, heart rate and calories burned
Included Nike+ sensor to track speed and distance while indoors or in areas where you can't get a satellite signal
Link to a Heart Rate Monitor, such as the Polar WearLink+ Transmitter Nike+ heart rate strap, to track your heart rate
Personal Coach feature reminds you to run, stores your run history and remembers your personal records
Watch band features built-in USB so you can easily upload run data to your computer and recharge the battery
Tap the screen with a finger to activate Backlit Display, designed for easy viewing
While running, use the scroll button to check your time, distance, pace and calories burned
Customize the data you see during a run using Nike+ Connect software (included)
Keep track of your 50 most recent runs
Nikeplus.com: Analyze your data, join challenges, set goals, customize intervals, view routes and connect with friends
View mapped routes with pace data and changes in elevation at Nikeplus.com
Built-in rechargeable lithium-ion battery provides up to 8 hrs. of use with GPS or Nike+ sensor; up to 50 hrs. in standby
1 Year Manufacturer Warranty
ESPN 30 for 30 DVD Sets
Anyone that has remotely been into sports and have come across these documentaries know how well they are made. In fact, they're so great, ESPN Films has decided to continue producing more documentaries, even though their original goal was to only do 30; in celebration of 30 years of ESPN. Michael Jordan's retirement to play baseball, the trade of Wayne Gretzky and the death of the SMU football program are just a few of the amazing stories worth owning.
http://www.espnshop.com/family/index.jsp?categoryId=4276098
Chattanooga Whiskey
We've covered the beer, but if you're in the spirit to sip something that will make you feel really warm this winter, Chattanooga Whiskey is the answer.
The equivalent to one of those amazing micro-brews you've never heard of, Chattanooga Whiskey leaves a warm, lingering finish that is perfect for the winter season while watching the football post-season. Sitting at 90 proof for the Reserve and 113.6 for the Cask, whiskey lovers will still be impressed at how smooth it goes down.
Here's one description of the Reserve:
The 1816 Reserve is an exceptionally smooth whiskey with hints of spice and a clean finish that both the whiskey novice as well as the connoisseur will enjoy. Our whiskey can be enjoyed neat or on the rocks and is the perfect companion to a well-crafted cocktail.
http://www.chattanoogawhiskey.com/
And that's the list for 2012 folks. Now go make your sports fan happy this holiday season, cheerleaders included!

Josh Helmuth is the editor for CraveOnline Sports. You can follow him on Twitter @JHelmuth or subscribe at Facebook.com/CraveOnlineSports.
Photo Credit: Getty
By: Ezra Shaw
Collection: Getty Images Sport