After fifteen years of metal domination, Lamb of God are celebrating their anniversary milestone with the release of a variety of retrospective Hourglass box sets. They range in price from reasonably affordable to metal-maniac bank-breaker, with the Super Deluxe Hourglass Box Set topping them all with everything a fan could possibly want. But there's one unique element to the Super Deluxe package that's unavailable anywhere else, and in a very cool gesture of solidarity with CraveOnline, LOG has tagged us to give away one of their badass Pure American Metal flags!
Otherwise only available as a part of the Super Deluxe Hourglass Box Set that retails for $999, the Pure American Metal flag is a uniquely awesome way to show the world you're flying the LOG colors. You can't buy it, you can't beg for it, the only way to get your hands on this baby is to enter below!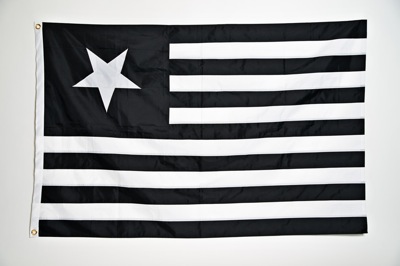 We've been fans for some time now, but after crossing the millionth-fan mark on the band's Facebook page, we were convinced that there's real momentum behind the Lamb of God movement online. Seeing the fans' power and voracious enthusiasm for the original flag contest, LOG has decided to offer one more Pure American Metal flag for the taking!
This is your last chance to get ahold of one of these kickass flags without spending a thousand bucks!
To enter, just shoot an email to craveonlinecontests@gmail.com with your name and address. Multiple entries won't be accepted, but you're more than welcome to follow me on Twitter and make your case for why you think you should win! Extra credit goes to the most kickass LOG story you've got.
I was made a Lamb of God convert over the Summer at the Mayhem Fesival, where they absolutely dominated their set, opening with a searing, crowd-riling "In Your Words" and bearing down into the shred through their too-short 40 minute playtime. While the entirety of LOG is a well-oiled machine of devastating metal assault, those who truly stood out in iconic nature were roaring vocalist Randy Blythe and lead guitarist Mark Morton.
Morton's darkly melodic fretwork was surgically precise, with particular fire on "Walk With Me In Hell," while Blythe's stage presence stands among the all-time greats in the game. He's explosive rock intensity personified, a leading reason the band has dominated so heavily over the past decade and a half. We're excited to be bringing them to you once again, with this unique flag giveaway!
Check out our interview with Mark Morton from a couple months back as well.
Keep up with Lamb of God on their Facebook page or official site.