A handful of celebrity surfers took over First Point at The Surfrider Foundation's 5th annual Celebrity Expression Session this past Saturday, hitting the waves and hamming for cameras as they raised awareness and funds for the non-profit grassroots organization.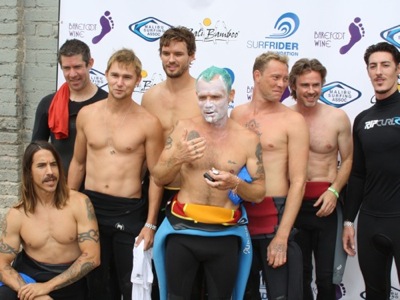 This year's event was hosted by a very pregnant Christina Applegate and fiance Martyn Lenoble, bassist for Porno For Pyros. Sponsored by Barefoot Wine, Cali Bamboo and the Malibu Surfing Association, the event drew an eclectic mix of celebrities from world of music, film, and television.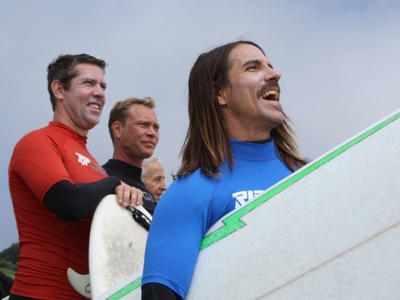 Anthony Kiedis and Flea of the Red Hot Chili Peppers were on hand to help pull in $29,600 for Surfrider, as well as The Hurt Locker's Brian Geraghty, Janes Addiction bassist Eric Avery, "Haven"s Eric Balfour and "True Blood"s Sam Trammell.
Here's what the surfers had to say about the Celebrity Expression Session:
"Surfrider is bringing about the importance that we have clean and safe beaches not only for ourselves, but for future generations. This is a gift we have been given and we need to maintain it, take care of it, and love it. I love the creatures that dwell in it. I'm really happy to be a part of this" - co-host Christina Applegate
"I'm thrilled to be here for the Surfrider Foundation for this Celebrity Expression Session. I recently got really, really angry about the oil spill in the Gulf and that is what got me going on this. I'm really happy to be a part of Surfrider and try to raise money for you guys." - Austin Nichols
"Today was amazing. I got to hang out for an hour in the water surfing and having fun and supporting the Surfrider Foundation with some of the coolest artists around. I got to surf with Flea and Anthony Kiedis those guys are my heroes...my idols growing up. Surfrider made my day. And I'm just so happy to support what they do. And you should do. Go to www.surfrider.org become a member. Save the ocean." - Eric Balfour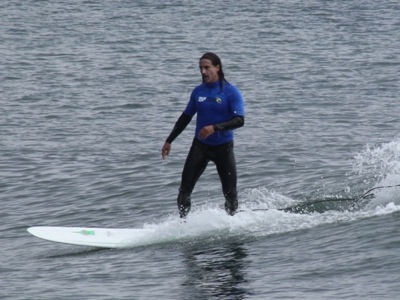 Additionally, in an exclusive CraveOnline interview at the event, RHCP frontman Anthony Kiedis discussed the band's new album, explaining that they've written "tons" of new material and kicked off recording on Monday (Sept. 13). Stay tuned for video from the event!
The Surfrider Foundation is a non-profit grassroots organization dedicated to the protection and enjoyment of our world's oceans, waves and beaches. Founded in 1984 by a handful of visionary surfers in Malibu, California, the Surfrider Foundation now maintains over 50,000 members and 90 chapters worldwide. For more information on the Surfrider Foundation, go to www.surfrider.org