Last weekend saw the return of the Outside Lands festival in San Francisco's majestic Golden Gate park, and by all accounts the two-day musical extravaganza was a smash success. Check out our huge gallery from the festival!
Pared down from last year's seven-stage overload, a leaner and more efficient Outside Lands this year sported appearances from The Strokes, Kings of Leon, Al Green, Cat Power, Wolfmother, Social Distortion, Phoenix, Nas & Damian Marley, Electric Six and many, many more.
Performances were spaced out enough on the fairgrounds that music revelers weren't forced to choose between their favorite acts or sprint between stages, adding to the casual pleasantry of the overcast skies and cool ocean breeze that kept the late-August heat from becoming a bother.
We got through the labyrinthian media check in in time to catch Electric Six turn the early afternoon crowd into a bouncing bonanza with "Improper Dancing". We're all massive fans of E6 and have seen 'em tear down the house at a dozen club shows, but these Detroit demons are most in their element in the festival setting, winning over tens of thousands of complete strangers with infectiously hilarious party-rock voodoo. Their new album comes out next month - it's called Zodiac, and it's without hesitation the single most fun record you'll hear this year.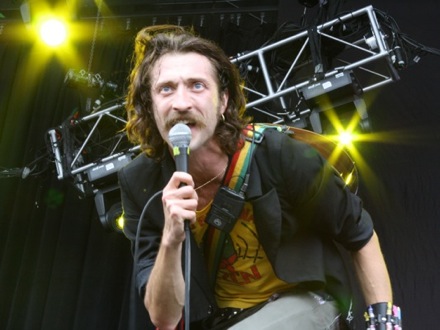 We moved on to Gogol Bordello after an interview break, and were reminded how much better these guys are live than on record. Their unique brand of gypsy Rock matched the jubilation of Electric Six, with an Eastern European flare that kept the largely-unfamiliar crowd on their toes.
For a long while now I've had the same feeling about Wolfmother that I've had about eating broken glass, but it's only fair to acknowledge that goat man and his hired guns had the crowd in the palm of their hand Saturday night, particularly during a surprisingly impressive rendition of The Who's "Baba O'Riley" late in the set.
After being completely indifferent towards My Morning Jacket for years, the photo-pit proximity to the show - coupled with some undeniably fantastic nugs - created the perfect environment for Jim James and company to fully win me over. They opened with a slow-rising rendition of "Tonight I Wanna Celebrate," before moving on through an impressive set that included fan favorites "Highly Suspicious" and "Golden". I was disappointed to leave after only a few songs, but I wanted to get good positioning for Chan Marshall, better known as Cat Power.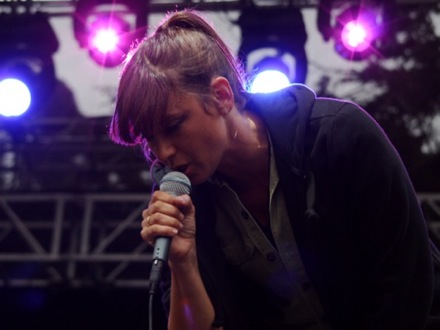 I've been a Cat Power fan for many years, but it gets difficult to maintain an active listenership with a voice that cuts through my heart like a sword through rice paper. Opening with Good Woman, a Vedder-tinted track from her astounding "You Are Free" record, the understated agony of heartbreak wafted through the air like a sweet sedative, calming the fidgety crowd and enrapturing all in earshot.
Moving on through a soft-step cover of the Rolling Stones' "Satisfaction," Chan took advantage of the singalong to step back and survey her audience. The look of appreciative enthusiasm illustrated just how far she's come as a musician since her early days of botched shows and fits of stage-fright.
My hectic trek to the opposite end of the park for Grateful Dead spinoff Furthur, featuring original Deadheads Bob Weir and Phil Lesh, proved unnecessary; they didn't appear onstage until 15 minutes into their set time, after which they spent another 20 minutes noodling around, warming up and completely ignoring the crowd.
Once they opened with "Cassidy," the joints were lit and the crypt-keeper face of Lesh was mercifully hazed out in a thick cloud of weed smoke. Watching a woman my grandmother's age lose her shit as the band broke into the celebrated Dead jam "Loser," screaming with joy and throwing herself to the ground again and again, proved to be my breaking point.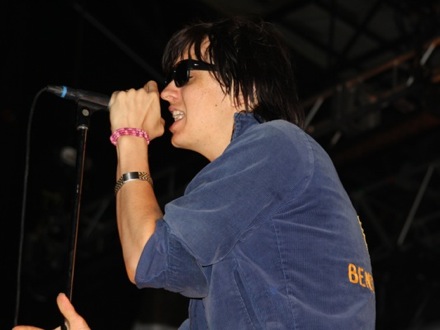 The hippies rolled deep for Further, and I nearly missed the start of the Strokes set back across the field at the Twin Peaks stage. But I made it, in time to muse on how bizarre it was that a band who hasn't had a record in four years or toured in ages was drawing such a massive crowd. I was a fan, but the boys had long since dropped off my radar, and I found myself wondering if they could even hold my attention anymore.
It only took one song. "New York City Cops," a buoyantly stabby non-album track, kicked off a high-energy set of accelerated darkpop jams that escalated through "The Modern Age" and "Hard To Explain," two more cornerstone songs that sold even the most cynical skeptics on hand.
We parted the hipster/hippie seas before the band closed with "Take It Or Leave It," a triumphant day behind us, to gear up for Day Two.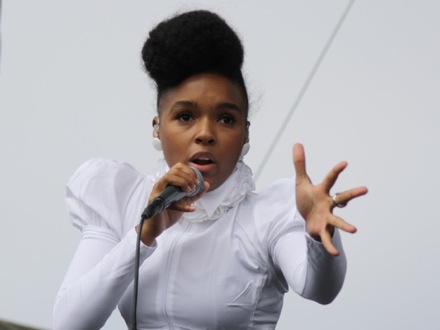 Sunday's festival events began far more low-key, with a 3pm Janelle Monae performance serving as our introduction to the day. It would've been perfectly timed, had Miss Monae's plane not gotten in late, resulting in a half hour delay. She tore up her 25-minute set nonetheless, running through breathlessly energized versions of "Dance or Die," "Faster," "Tightrope" and the Charlie Chaplin cover "Smile".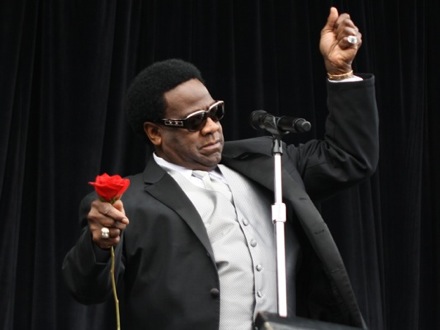 It was hard to believe that we'd be seeing the legendary love-soul crooner Al Green until he actually appeared onstage, kicking off with a loose rendition of L-O-V-E before belting out classics like "Let's Stay Together," Roy Orbison cover "Pretty Woman" and "Sittin' On The Dock Of The Bay "while throwing literally hundreds of roses out to the ladies in the crowd.
Even in his sixties the man's still got it, despite dancing like a woman who's never had to take a shit so bad in her life.
I took an early exit to hit the Chase Lounge, where Janelle Monae was finishing up a short acoustic set that bordered on magical. During a heart-searing rendition of "Cold War," the famously tidy & composed songstress broke down in tears for just a moment - before collecting herself an finishing the song as strong as she began. Watch an exclusive video of the performance.
The five o'clock hour brought one of the festival's biggest surprises; I had written off electro-dance act Chromeo more times than any other artist I've encountered, simply because I've had various inboxes mercilessly assaulted with promotional blasts for months on end, from no less than half a dozen publicists. In our book, if we're only hearing about an act from the people hired to sell that act, then that act won't be going many places.
Chromeo is a shining exception. Thirty seconds into "Tenderoni," I was sold and dancing like a complete idiot along with the thousands around me who were singing every word. You'll be hearing more about them from us in the near future. They've earned it.
Phoenix also won me over quickly, despite the thick armor of hipster-hero repellant I'd constructed since they hit the collective radar. Unavoidable single "Lisztomania" kicked off the set, which found frontman Thomas Mars climbing out into the crowd.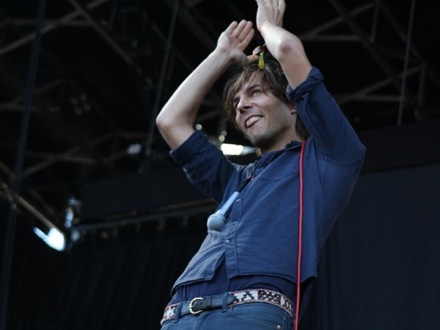 "This is our last show here for a very, very long time," Mars explained, so they wanted to go out right. That they did, with a dozen songs that ran like a hipster's wet dream soundtrack. I can't complain - I enjoyed every moment of it.
Special mention goes to Empire of the Sun, a band so horrifically abominable and disgustingly gimmicky that a little bit of fear for the future of music crept into my heart as I saw hundreds of people singing along.
After catching a few songs from Social Distortion, I grew wary of being reminded so strongly of Southern California and moved on to Nas & Damian Marley. I'd seen their set months prior at a festival in L.A. and then again at Bonnaroo back in June, but this performance took the superstar collaboration to a new level. Fluidly comfortable with one another's style, songs and timing, Nas & Damian played with the boundaries of their tracks, shifted lyrics and added freestyles in a tight format that only suffered from sound drops that littered the set.
After watching the dynamic duo close with a glorious version of Bob Marley's "Could You Be Loved," we moved down to catch Kings of Leon at the Lands End stage. Typical to form, KOL was the only band to have an exclusive photo pass list all its own, for which only select few publications were allowed to shoot. Unwilling to be defeated by diva bitch behavior, we put on our pigeon costumes in spirit and dug our way into the crowd to get a few good shots.
I'd love to trash these industry brats for all the prima donna behavior I've heard about and personally witnessed, but there's no denying that the band tore the hell out of their set - which included impressive new tracks "Mary" and "Southbound" - and closed the festival on a high note. For that, they at least deserve our respect.