Day Two of Bonnaroo 2010 was a marathon of musical delights, with a star-studded lineup that found music lovers frantically running between stages, attempting to split their time between bands with conflicting schedules.
Do you catch blues demons The Black Keys on a relatively small stage, or The Flaming Lips performing Dark Side of the Moon in its entirety? Dilemmas such as these plagued the day nearly as much as the 95 degree heat, with matching humidity leaving people in puddles of sweat throughout the day. It was a high-intensity test of endurance, and those who toughed it out were rewarded with some wonderfully memorable performances.
I may have rushed to judgement yesterday when I said that Bonnaroo is for hippies. Granted, a walk through the incredibly vast camping area yields a mindblowing array of hedonistic attitudes, where girls nonchalantly shower out in the open, men in sarongs and henna tattoos a-plenty - not to mention the thick clouds of pot smoke drift through the compound. But ultimately, the core of what makes Bonnaroo unique is the peaceful energy that runs through the 85,000 in attendance. That undoubtedly has a great deal to do with both the fact that the lineup is very light on hard rock "meathead" acts, as well as the fact that festivalgoers will go the entire length of the event without seeing a single police officer. Private security was on hand in the form of elderly volunteers on horseback. No guns, no tasers, no menacing attitudes. We policed ourselves and had a wonderful, peaceful time.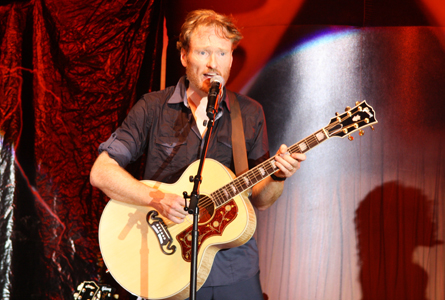 Our first event of the day was a hotly anticipated appearance by future TBS late-night host Conan O'Brien in the Comedy tent. O'Brien, who introduced many of the major acts on the main stage throughout the day, was in such demand (fans began lining up at 5am to catch his set) that Bonnaroo's 2500-capacity Comedy tent couldn't meet demand - so the 1.5 hour set was also broadcast on a giant screen at Bonnaroo's new Lunar Stage.
Conan was swarmed with love by the crowd, accompanied by his "Late Night" and "Tonight Show" sidekick Andy Richter (and band). "In six months I went from hosting 'The Tonight Show' to performing at a refugee camp," Mr. O'Brien said near the beginning of his 90-minute show.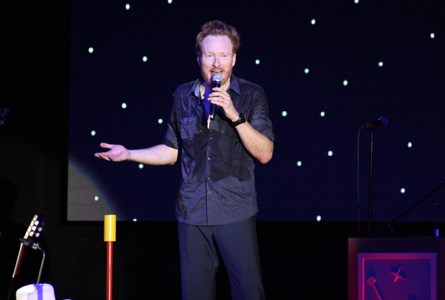 Between jokes and leading his band through several songs (which included a fantastic version of the White Stripes' "Seven Nation Army"), O'Brien brought the house down when he reintroduced an old classic, favorite late-night bit: the Walker Texas Ranger Lever - a lever which, when pulled, activates one of many inexplicably weird, phenomenally cheesy and ridiculous clips from the Chuck Norris cop show. For legal reasons (NBC owns the name now), Conan had to change the lever's title to Chuck Norris: Rural Policaman Handle.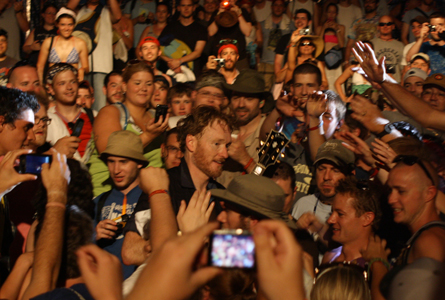 As he made his way through the crowd to an encore performance of the classic The Band jam "The Weight," the mood hit dizzying heights that was as celebratory as any New Year's event you've ever witnessed. Pure, ecstatic love was in the air for the ginger-topped comic hero, and by the time he returned to the stage Conan was a disheveled mess, drenched in the sweat of his fans and beaming with appreciation for the reception.
Later in the evening, while introducing his friends Tenacious D, O'Brien stated that, after ending his abbreviated run on "The Tonight Show" he was offered a chance to emcee almost every major festival in America but turned down Coachella because they're "not human enough" and Lollapalooza because it "sounds like candy for children."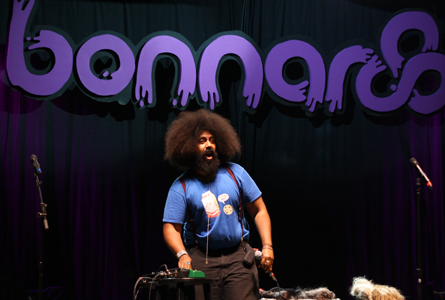 The heat was abominable, with revelers baptizing themselves in the fountains and every inch of shade coveted feverishly throughout the day. The highest risk for heat stroke was likely during Reggie Watts' opening performance for Margaret Cho in the comedy tent in mid-afternoon. The vents and fans weren't working inside what was essentially a relatively small circus tent, creating a high-pressure atmosphere for entertainment. If the acts didn't kill, the tent would've emptied in the blink of an eye.
Thankfully, that was not a problem in the case of Reggie Watts. The unfamiliar audience was skeptical as Reggie shuffled onstage and fumbled around, deliberately and excessively, for five solid minutes. The tide of interest was just beginning to turn when he utilized his performance tools - a board of loop and effects pedals with which he builds ever-rising walls of sound, all his own voice. Soulful, hilarious and nearly entirely improvised, Watts is a rare figure who seems barely able to contain his own creative brilliance.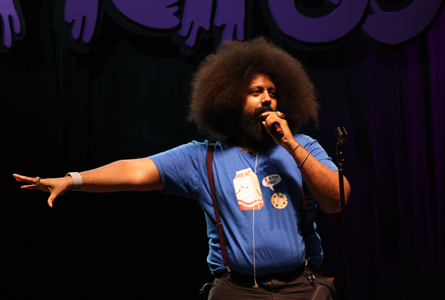 Switching between accents and attitudes faster than a schizophrenic on speed, Reggie soon had the crowd wide-eyed and eating out of his hand. He ended his set with a hilarious, raucous improvised song called "It's a Bonnaroo Thing." Here's a clip of the song, which captures a solid taste of his captivating, transcendent ability (pardon the hazy visual, Flipcam wasn't cooperating):
Exhilarated from having been absolutely floored with Watts' talent, I made my way over to the What stage for Tenacious D, where JB & KG played a nearly two-hour set of hits and humor specific to the D brand. Their opening song was a lengthy narrative about how their Pick of Destiny film flopped, which presumably meant the end of the D.... but the D shall rise again!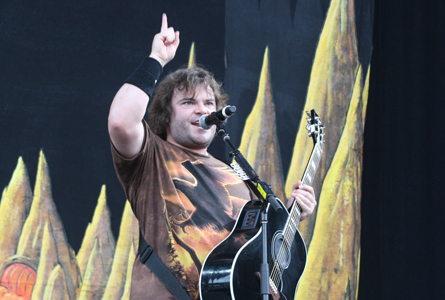 A non-musical highlight bit found Black taking an unexpected phone call onstage and negotiating a deal for Pick of Destiny 2 on the condition that he replace Gass with "that dude from Paul Blart: Mall Cop. An appearance by The Metal, a giant robot that destroys other musical genres, as well as Satan himself, undoubtedly sweetened the deal for the stoned masses in the blazing sun.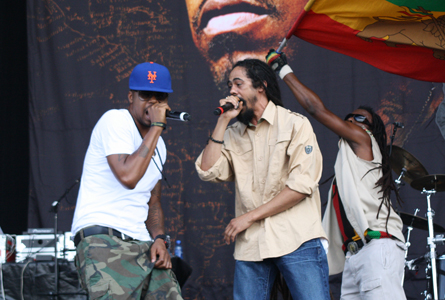 Also on the main stage was a blistering, high-energy set from Nas & Damian Marley, who had no resistance from the crowd in their repeated requests that everybody smoke whatever they've got.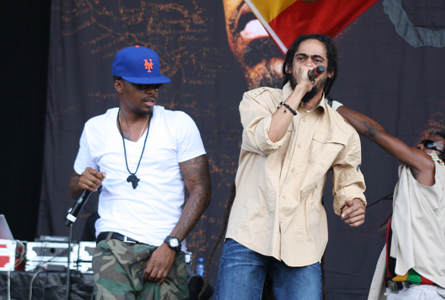 Unlike their performance at the UCLA Jazz & Reggae festival just a few weeks ago (when Nas warmed up the crowd with solo material before Damian made an appearance), both superstars hit the stage simultaneously, delivering a hi-octane hybrid dose of reggae and rap royalty that explored not only the majority of their collaborative Distant Relatives album, but also on each artists' solo material, as well as a dose of Damian's legendary father Bob Marley.
Stefan Lessard, bassist for the Dave Matthews Band, joined Nas & Damian onstage, beaming wide throughout the entire performance as if he were living out a boyhood dream.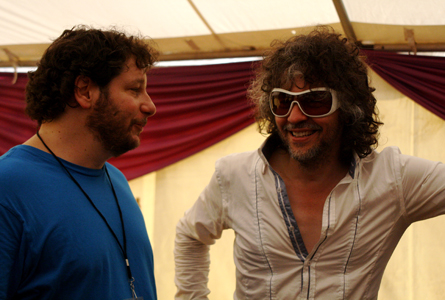 Artists made their way through the tents doing meet & greets and interviews, allowing for strange photographic partnerships such as the Flaming Lips' Wayne Coyne and comedian Jeff Ross, who hosted a press tent panel featuring Coyne, Matt from the National and Damien from OUGO.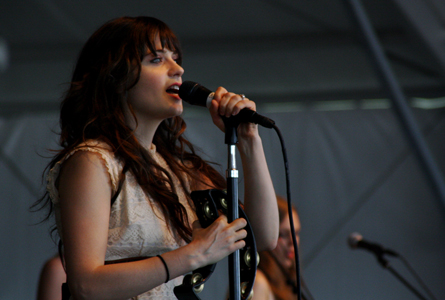 Appearances from She & Him and Tori Amos drew the most female attendees, and surprisingly, despite a sensational performance by Amos, Zooey Deschanel's band took the award for most enthusiastic reception.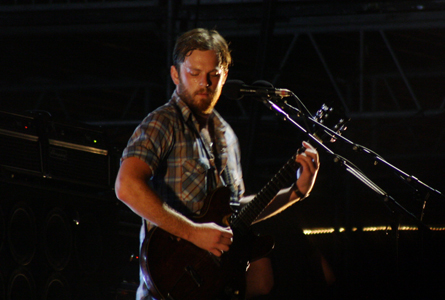 Friday headliners Kings of Leon drew the largest crowd of the event thus far. Having established themselves as modern superstars, Kings delivered a massively impressive hits-heavy set that was universally adored by the fence-to-fence capacity crowd.
After kicking off with a rousing rendition of "Crawl" and debuting a few new songs for their hometown crowd - as well as a faithful cover of the Pixies' "Where Is My Mind," they delivered their biggest hit, "Sex On Fire," to the ecstatic delight of what seemed to be the entire audience. I'd made my way across the grounds by that point, but clear across the park one could hear the sing-along clear as a bell, every lyric a deafening synchronized celebration.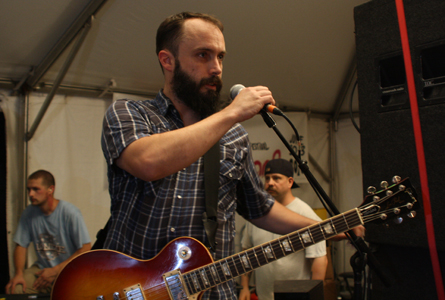 The Bakerton Group - essentially Clutch stretching out their instrumental blues-rock muscles - were a formidable force of groove at the Troo Music tent, and an exciting precursor to their two performances slated for Saturday.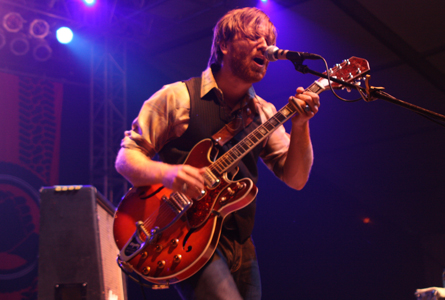 The Black Keys took to the stage in That Tent at the same time as the Flaming Lips set out on their own journey across the park, and many attendees (myself included) were massively torn between the two. The Akron blues duo hit the ground running, immediately immersed in the action as if what we were seeing was merely a continuation of some other unseen show that took place while we waited. Instant intensity yielded ecstatic reactions from the crowd, as the Keys rolled through a set that explored their extensive catalogue. As a rabid fan of the new album, my only complaint from the performance is that more new material could've made its way into the set.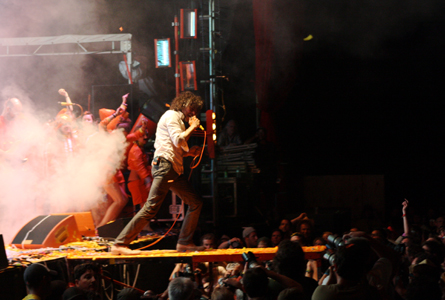 The Flaming Lips' second-ever performance of Pink Floyd's seminal drug-culture cornerstone album Dark Side of The Moon was prefaced with an hourlong run through Lips hits amidst a blizzard of confetti and giant balloons. Singer/ringleader/psychedelic Willy Wonka Wayne Coyne knew that the majority of conversation throughout the day revolved around what Dark Side track people would get the most high for, and he urged the audience to make a stand for their beliefs and work hard, so that next year at this same time, marijuana would be legal nationwide. A pipe dream for sure, perhaps unless you live in California, but the police-free atmosphere lent itself to a level of giddy indulgence and spectacle that most never get to experience in their lifetimes.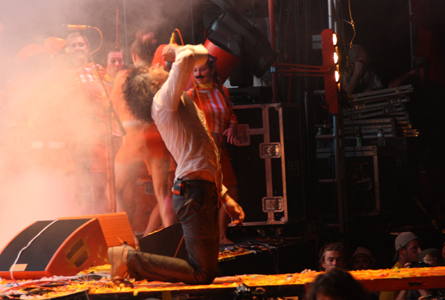 Ultimately, that's the spirit of Bonnaroo. It's as great a sense of freedom as anyone can possibly have these days, at least surrounded by 80,000 other like-minded music lovers. The energy is joyous, with little concern for ego, machismo or authority. It's what separates this festival from all the others, and gives this little corner of Tennessee forest a genuinely beautiful energy.
The overall festival mood hit its highwater mark during the Lips' unveiling of the Dark Side, particularly "The Great Gig In The Sky," during which the wide-eyed dilated-pupil masses near the front were pulled into a vortex of psychedelic alchemy. To those lucky few thousand up front, too immersed in the moment to be concerned with the crush of bodies and rivers of midnight sweat enveloping them, memories & impressions were made that language has difficulty expressing.
Ultimately, moments like these are exactly what makes the hassle of trudging out to the middle of the country in swamp-air season worthwhile. It's an experience that can't be replicated through a digital stream, good speakers or a vicarious retelling. If you're a slave to the music, as so very many of us are out here in Manchester this weekend, your freedom awaits you in the pit.
On to Day 3!