Massive Attack returned to Los Angeles Tuesday night for the first of two nights at the Wiltern, reminding the Western shores that after two decades, five brilliant albums and countless star-studded collaborations, they're still pound for pound the finest trip-hop act in existence.
After a strong - if subdued - opening set from longtime Massive Attack collaborator Martina Topley-Bird, the band took the stage in near-total darkness to thunderous welcomes. Through their two-hour set the band pulled heavily from their excellent fifth album Heligoland, bringing Topley-Bird back out for new crowd-favorite "Babel," the second song. Her delicate, breathy vocal bounced through an alternate rendition of the song, with the entire crowd leaning forward to absorb each syllabic intonation.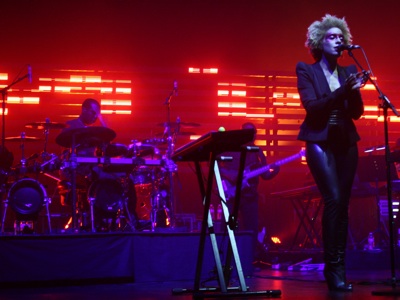 Topley's take on a reworked, minimized "Teardrop" may not have possessed the ethereal magic that Elizabeth Fraser of the Cocteau Twins brought to the original, but it was beautiful nonetheless.
Aside from the near-effortless execution and exploration in performance, the band appeared far more present and enthusiastic than they did at Coachella in 2006. When he wasn't singing, frontman Robert Del Naja (3D) was entirely engaged in the others' performance, relentlessly dancing and appearing far more invested in the sound than the last time the band graced this neck of the world.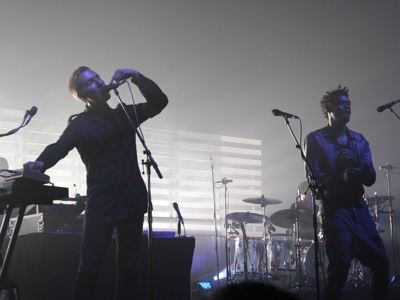 "Paradise Circus" was sorely missed from the new material, but strong showings from Topley-Bird and Horace Andy, the latter of whom appeared for a pulsing rendition of "Girl I Love You," more than filled the gap of Hope Sandoval's absence.
Horace also made an appearance for a stirring version of "Angel," which thanks to Aghorrorag you can watch right here:
Massive Attack pay the Wiltern again tonight. If you're within a hundred miles, I highly advise making the show.
Bonus: Robert Del Naja did an interview with the LA Times, published yesterday, in which he discusses the group's endurance after two decades and the process behind Heligoland and a brand new album, which is already underway and could see release as early as next year.
Here's a taste:
You guys have already started working a new record, correct?
We started the new record back home. [Goldsworthy] has been in the studio in Bristol starting on the new material. I don't know if it's been this last year traveling, or a new political climate, or the energy of being back in the studio working with [Daddy G] and [Topley Bird], but it's been really fun and there's a lot of creative energy at the moment.
I've really enjoyed painting again -- I'd stopped for a while but Banksy coerced me to start up again. He actually turned up at our show in Toronto and left us a painting as a gig postcard. Its something to be thankful for, you can get bored and jaded, and its great to feel that inspiration again. And as Geoff Barrow recently said, 'Maybe the Conservatives coming to power in England will inspire a new protest music.'
Read the rest of the interview here.
Massive Attack - 2010 North American Tour Dates

5/18 Los Angeles, CA - Wiltern Theater
5/19 Los Angeles, CA - Wiltern Theater
5/25 San Francisco, CA - Warfield Theater
5/27 San Francisco, CA - Warfiled Theater
5/30 George, WA - Sasquatch Festival
Photos: Johnny Firecloud