The Metal Den has unearthed the earliest live audio recording of Led Zeppelin known to exist, and only the band's fifth show performed in America.
Zeppelin, who would soon become one of the most iconic bands of all time, were the opening band for psychedelic rockers Vanilla Fudge at Gonzaga University's gymnasium in Spokane, Washington on Dec. 30, 1968. The ads in both local news papers promoting the event even got the name wrong: "The Vanilla Fudge with Len Zefflin."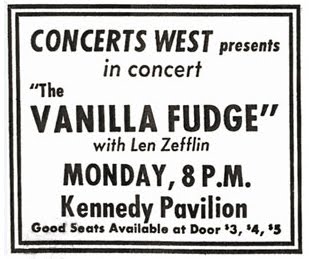 As the story goes, an ad copywriter misheard the name and thought it was some person named "Len Zefflin."
'Len,' of course, would turn out to be Led Zeppelin, heavy metal pioneers and immortal blues-rock demons that just as many successful modern bands owe homage to as the Beatles.
The recording from the performance, which you can hear below, includes the classic track "Dazed and Confused". Singer Robert Plant introduced the song to the crowd that night: "This is off an album that comes out in about three weeks time on the Atlantic label. It's called 'Led Zeppelin.' This is a tune … called 'Dazed and Confused.'"
Led Zeppelin's first album would not land on the charts until February 1969, two full months later.
The clip, which runs nearly ten minutes long and was recorded by a student with a small tape recorder, features a stony, dreamy version of the song and contains a violin bow run that starts just after the four-minute mark and ends two and a half minutes later.
Listen to the rarest known Zeppelin recording below!
Led Zeppelin setlist - Gonzaga University, Spokane, Washington 12-30-1968:

1. Train Kept a Rollin'
2. I Can't Quit You
3. As Long As I Have You
4. Dazed And Confused
5. White Summer
6. How Many More Times
7. Pats Delight