Mumford & Sons have been officially invited to perform today (March 14) for President Obama and Prime Minister David Cameron at The White House.
Cameron personally invited the band to represent the UK whilst Obama invited John Legend to represent the US at the state dinner, which will see 1,000 guests including the likes of Richard Branson ,Damian Hirst and Rory McIlroy attending.
The folk rock quartet have made waves in the US with their debut album 'Sigh No More' shifting over a reported two million copies.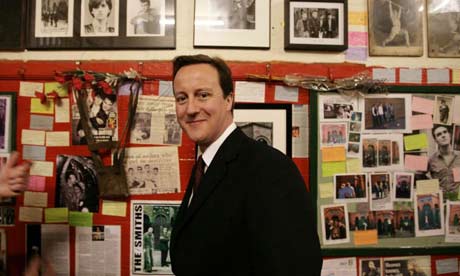 David Cameron's music taste has been widely reported upon and mocked, with his championing of the Arctic Monkeys and Lily Allen during the beginning of his campaign being seen by many (including this writer) as an embarrassing attempt to win over young writers.
His alleged love for The Smiths was met with both Morrissey and Johnny Marr bemoaning him as a fan, with Marr famously telling him via interview: "I forbid you to like The Smiths". Morrissey backed Marr's condemning of the Prime Minister because he "hunts and shoots stags".
On the other hand, Barack Obama's love of music has received nothing but positive press, with his singing a portion of Al Green's 'Let's Stay Together' at a fundraiser in January causing sales of the song to rise by a staggering 490%. He has also invited Jay-Z to The White House a number of times and his campaign for presidency was famously backed by many musicians, many of whom joined Will.I.Am in the song 'Yes We Can', written in support of Obama.
Mumford & Sons will be at SXSW on Saturday (March 17) in order to attend a screening of their documentary Big Easy Railroad Express.
Follow @CraveOnlineUK on Twitter for the latest UK music news.