With a summer that featured a Brightest Day and a Heroic Age, it can be easy to overlook one of the more interesting and well-written comic book events, Top Cow's Artifacts. While not boasting the roster of well-known heroes and villains of the big two, Artifacts does have The Darkness, Angelus, Witchblade, Tom Judge and a host of really interesting and fleshed out characters.

Outside of the "if we fail it's the end of the world" aspect, Artifacts sidesteps the usual light against darkness clichés by mixing the two sides. So often in these stories everything is black and white, good guys and bad guys. Here, nobody is perfect and the worst demons of hell have to work with angels of light for a greater good. It's a real life shades-of-gray injected into a mythical fantasy.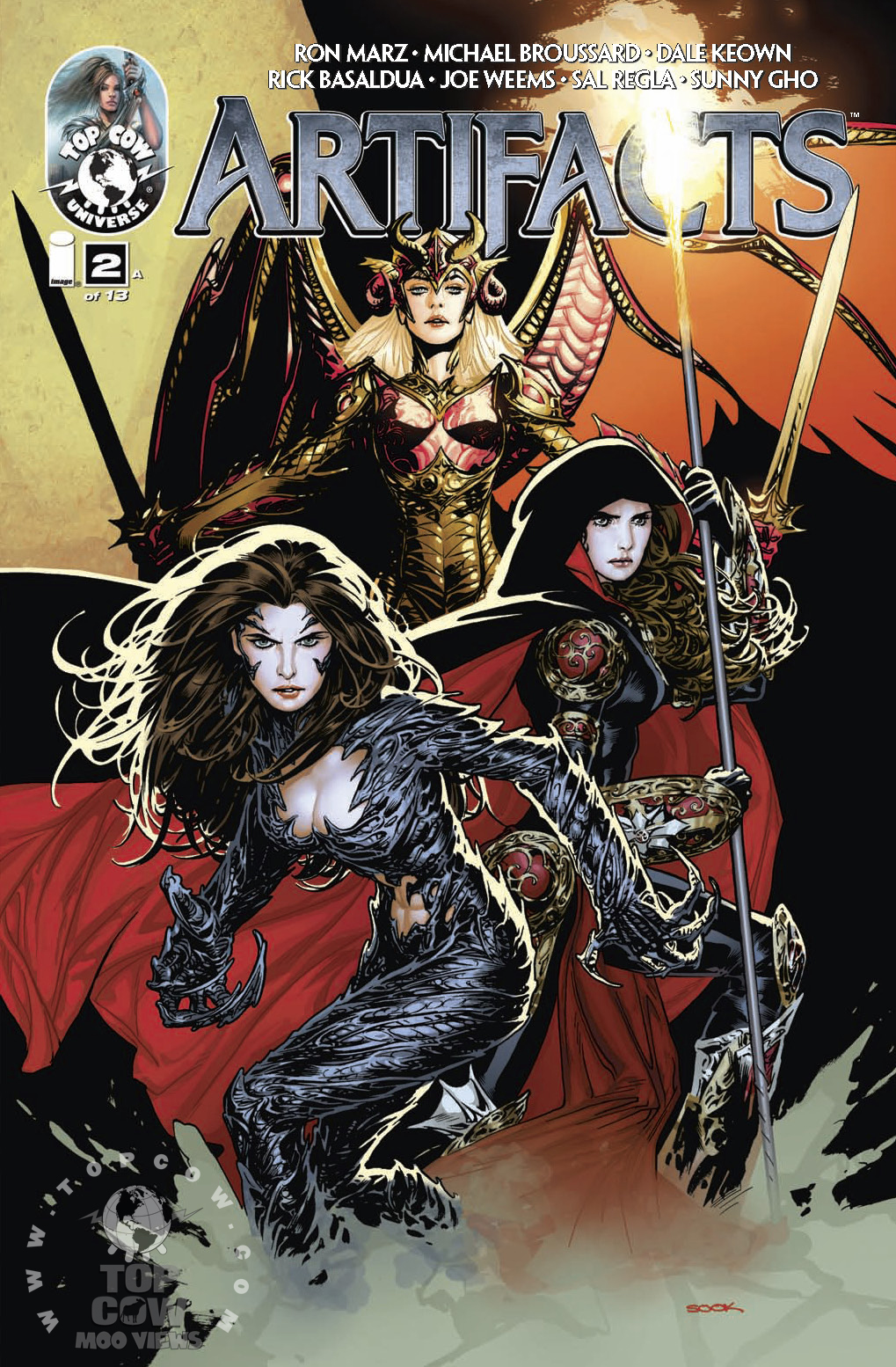 Writer Ron Marz has nailed this event from the beginning. In issue #0 he intrigued us, in issue #1 he set up the characters and now, in Artifacts #2, Marz is moving the pieces into place. This issue opens with Jackie "Darkness" Estacado confronting a mafia rival using his usual subtle demons-erupt-from-my-body style. During this negotiation Jackie receives a call that seems to spook even him.

Meanwhile, New York Detective Sara Pezzini aka Witchblade has arrived at the scene where Aphrodite IV, a kind of Harley Quinn-meets-Blade Runner character, gunned down her sister. Worse still, Aphrodite IV has kidnapped Pezzini's daughter Hope. Hope's not just another cute kid; she's the balance of good and evil, seeing as how she's the offspring of both Witchblade and Darkness.

To make matters worse it was Pezzini's partner that called Jackie, who shows up saying he's going to kill everybody involved. Pezzini wants none of this and to make it all more tense, Angelus shows up with an offer to help, though the bitter hatred between her and Jackie (remember, he's the Darkness) makes the whole reunion a bit tense.

Did I mention the part about Tom Judge, the corrupt priest vomited back out of Hell to gather forces against the end of the world? Apparently the same mysterious stranger that kidnapped Hope is looking to gather these thirteen artifacts (of which Tom Judge and Witchblade are two) in order to bring about the end of the world. See what I mean? Nobody's perfect here and all this character play really lifts Artifacts out of the usual event series doldrums.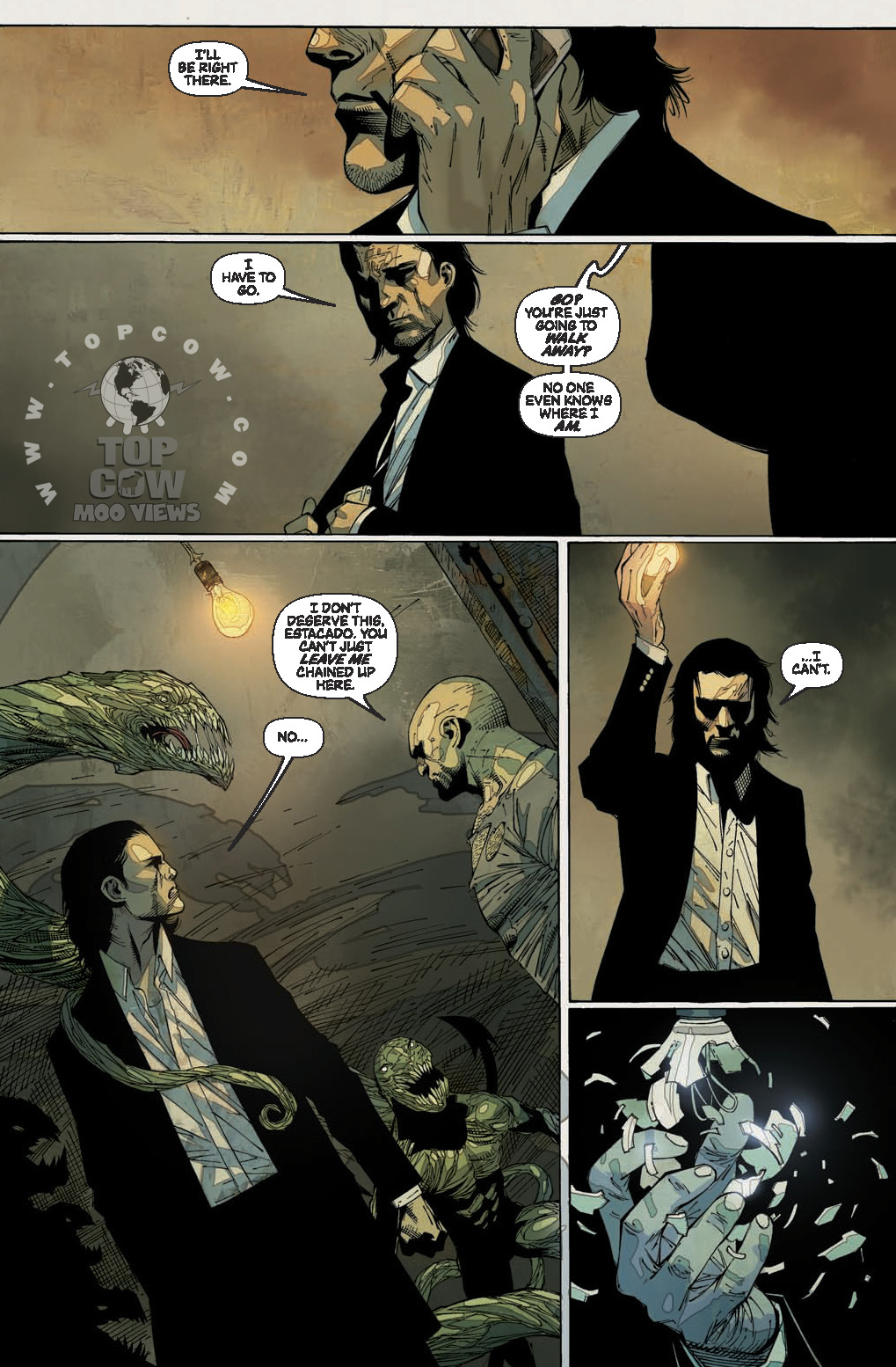 Marz has done a beautiful job of putting characters first with Artifacts, letting the supernatural elements take a backseat to the human drama. Witchblade and Darkness maybe be supreme beings in their respective worlds but they're also a dysfunctional couple that both love their daughter.

Angelus is a supernatural angel of light but she's also a good friend who hates the jerk boyfriend. Tom Judge may be a priest of questionable faith spit back into our world but he's really funny. It's the jumbled pie of humanity and the supernatural that makes Artifacts work. Marz has a keen sense of that plus a nice wit and a great handle on good dialog.

Artist Michael Broussard lays it down nicely here as well. It's hard to draw fantasy without making it too dreamy and fantastic. Keeping fantasy grounded in reality art wise is never an easy task but Broussard handles it masterfully. He also knows how to give both the demons and the angels some nice textures that keep them out of the standard look for both. There's little in the way of straight action in Artifacts #2 but the art maintains a nice movement to it, each panel eases right into the next one.

I also like that Broussard draws Sara Pezzini, Jackie Estacado and Angelus as just a little better looking than everybody else. You can't have the ultimate warriors for light and dark looking like the rest of us can you? Broussard also loves hair. The hair in this issue flows all over the place, even the panel when Pezzini's sister's body is shown, her hair looks great.

Marz smartly crafts Artifacts as a mystery. Each issue builds on the last and gives you enough information to keep you intrigued but without spelling anything out. You need to build mystery and tension like that when you're crafting a story over thirteen issues, especially one that will have dramatic fallout for a entire stable of characters. From what I've read so far Artifacts looks to be a new standard in storytelling. Step aside Brightest Day; move over Heroic Age, there's a new sheriff in town.