There's no denying that Neil Young is one of the most prolific musicians ever to walk this earth. Not that you need the history lesson, but whether it be his solo/Crazy Horse work, Buffalo Springfield, or Crosby, Stills, Nash & Young, the man has written a couple of songs. With the 2003 album Greendale, Young created a rock opera exploring the political landscape in terms of environmentalism and the War on Terror that was supplemented by many other formats, including a film, live show and acoustic performances. And now, obviously, an original graphic novel published by Vertigo.
I've never listened to/seen Greendale, though I contemplated it before starting this book. In the end, I decided that perhaps my ignorance to the album itself would benefit my critical eye. Without knowledge of the music itself, I felt like it left me open to judge Vertigo's Greendale as a comic book and not just another supplement to Young's ambitions.
Greendale's plot follows a young teen named Sun Green, who is struggling with her role in a changing political landscape and family troubles while stuck in a small, tightly knit California town. Tapping Unknown Soldier scribe Joshua Dysart was a fitting move for Vertigo, as his politically charged stylings in the aforementioned book are able to carry over to Greendale, almost in full. Much like Unknown Soldier, Dysart strikes a balance between the political themes and firm character development, with a slight dash of psychedelia thrown in.
Greendale is an odd mash-up; Dysart goes in many interesting directions but never follows through completely in any one. Sun's desire to speak out against the impending war appears to be meant to tie into her family's strange legacy, but when the pivetol moment comes - her moment of clarity- the effect is lackluster. For over 100 pages we've watched Sun move from hallucination to hallucination without any real certifiable information on just what this family legacy is all about.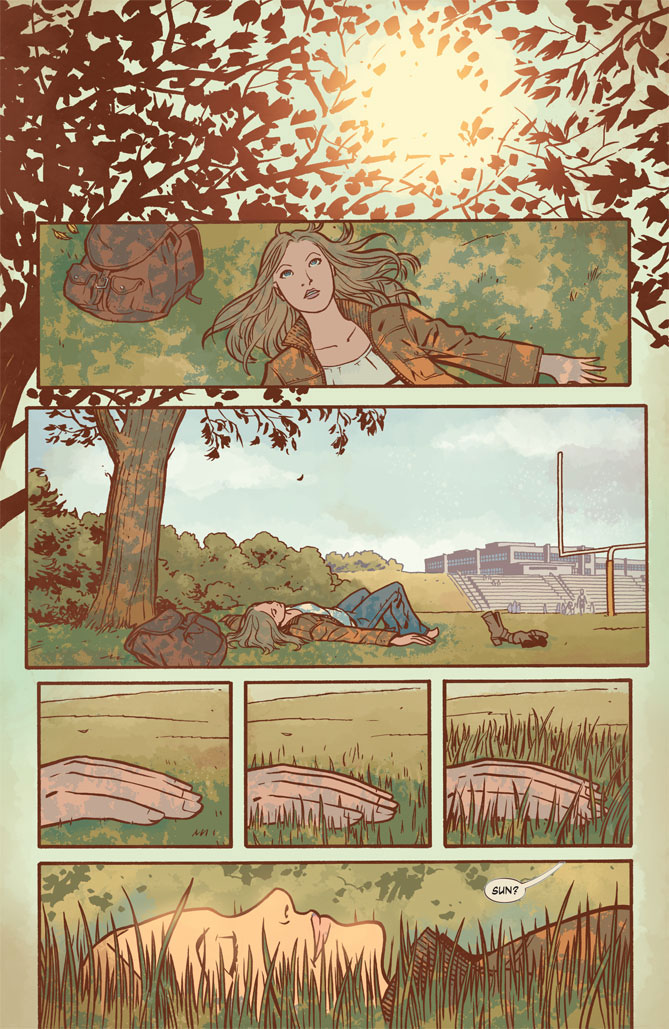 Granted, that's really not the point of Greendale. While the characters and their lives are important in terms of plot, they only exist to reflect our society and our problems as a collective whole. It's meant to stir up awareness of respecting ourselves and the one home that we've been given. Perhaps ironically, the timing of this book's release couldn't have been better, with the current situation regarding the BP oil spill, as terrible as that is to say. In fact, the oil spill is a great example of how relevant the concept of Young's work is, even 8 years after its inception.
The real prize winner of Greendale is Cliff Chiang's beautiful, beautiful work. I've never seen a page of Chiang's art that I didn't fall in love with, and that doesn't change in Greendale. His characters are brilliantly acted, from body language to facial features, and every character feels unique. His layouts are crisp and simple, putting the focus on the characters and emphasizing his stellar line and ink work. Accompanied by Dave Stewart's earthy color palette, the artistic side of Greendale comes together in a way that I'm sure even Young himself couldn't have predicted.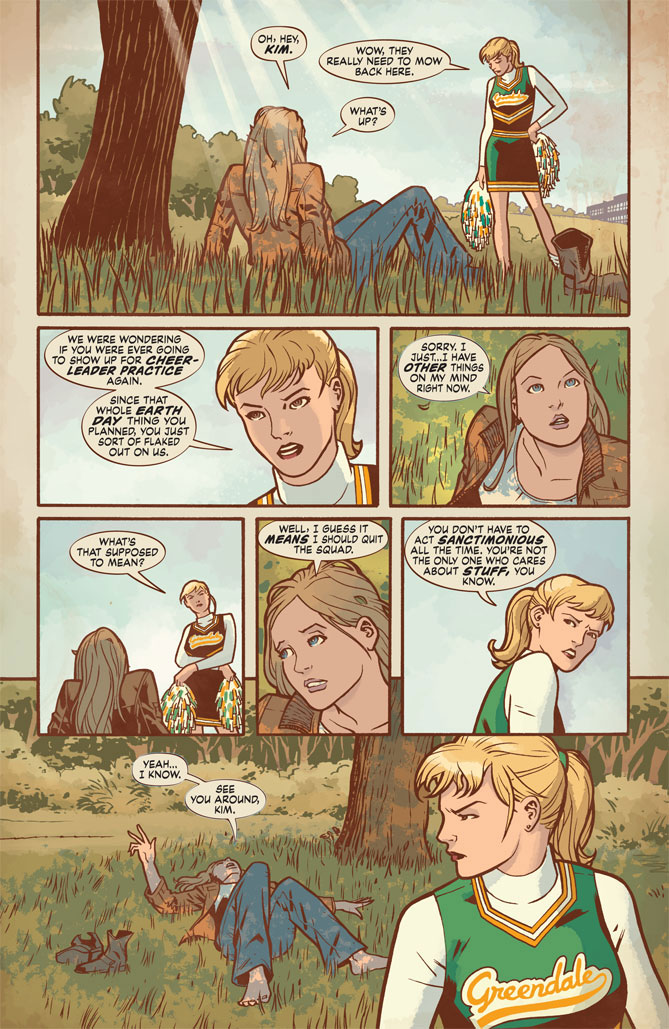 One last note about Greendale that should be mentioned, as it underscores the entire theme of the book, is that it is printed on 100% recycled paper (40% post-consumer waste). As such, the book feels different, texture-wise, but it also helps the art in sort of a fourth-dimensionally weird way. Knowing that the book itself is striving to be green only emphasizes the earthy tones of the art.
I'm excited to have Greendale on my bookshelf for the opportunity to go and listen/watch Neil Young's other Greendale outings and then come back to re-read the comic to see if my opinion or understanding of it changes.