Jay Leno might have to trot out his old friend Jerry Seinfeld once again pretty soon, since his primetime celebrity pull has just been officially derailed. Major movements by the other members in the Big Three - ABC and CBS - have been made to actively discourage their stars from appearing on the show.
Despite a new prime-time slot and an easier grab for larger audiences who are still awake, NBC's giant-chinned peacock Jay Leno is facing plummeting ratings and an industry that greatly resents the fact that his show is replacing five solid nights of what could otherwise be prime-time shows. For NBC, that means financial success no matter what happens, given the price cut. For everyone else - the cast, crews and entire production staff of the shows that no longer exist, it's a nightmare. But they're got friends (and former rivals) on their side, rallying to the defense.
Rival networks ABC and CBS are encouraging their stars to boycott Leno's show, highlighting an unintended consequence of NBC's decision to move the veteran late-night comedian into prime time.
Leno mentioned the boycott Tuesday when Julia Louis-Dreyfus became the first CBS actor to appear on his new show. The former NBC "Seinfeld" star now stars in the comedy "The New Adventures of Old Christine," which airs Wednesdays at 8 p.m. on CBS. Louis-Dreyfus acknowledged that she faced some resistance but wanted to honor her commitment because she and Leno were longtime friends.
"Yes, there was a little pressure, because as you know you are now on prime time and I'm on a different network," said Louis-Dreyfus, appearing a little uncomfortable with the topic. Understandably; she arrived onstage with a homemade "watch CBS" logo on her butt.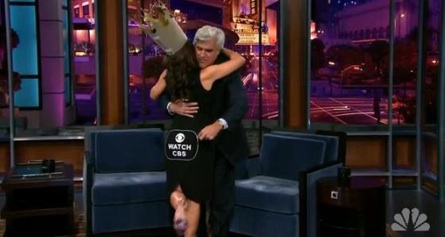 But NBC's decision to shift Leno might be a terrible backfire, unless there's some way to switch the format to skip interviews altogether. But what good would Leno be then? Who the hell wants to see him do stand-up comedy and the "Jaywalk" segment for an hour every night?
"In prime time, the stakes are higher and you have to protect your flank," said one network executive who asked not to be identified to avoid inflaming hostilities among the broadcast networks.
Leno is also cutting into successor Conan O'Brien's vibe in a huge way - Conan is coming apart at the seams in the ratings. I'm sure he, along with myself and the rest of the television world who have even the loosest grasp of integrity, can't wait for the Leno project to fail.