Bolton Wanderers' Fabrice Muamba has shown early signs of recovery tonight (March 19) following the terrible incident that occured during his clubs' FA Cup game against Tottenham on Saturday (March 17).
Muamba was rushed to hospital after suffering a cardiac arrest midway through Bolton's FA Cup tie with Tottenham. The match was brought to a halt and Muamba spent the rest of the weekend in a critical condition.
Last night (March 18) Muamba was able to speak and recognise members of his family visiting his bedside, with doctors noting that he was "showing signs of improvement" and that his condition was stable yet still critical, with his heart beating without medication.
Muamba was kept in a medically induced coma in order to reduce swelling around his brain, but around 3.30pm today he was slowly brought off the medication and by the evening the ventilator previously required to help him breathe was removed.
A statement released by the club and hospital read: "Muamba remains in intensive care at the London Chest Hospital. He is continuing to show signs of improvement this evening and he is currently able to breathe independently without the aid of a ventilator. He has also been able to recognise family members and respond to questions appropriately.
"These are all positive signs of progress, however, his condition remains serious and our medical staff in intensive care will continue to monitor and treat him."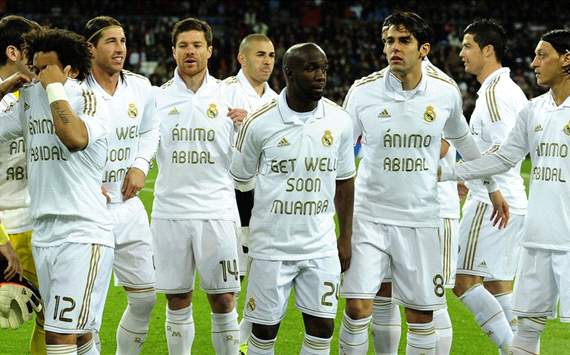 Muamba's illness has inspired support from his fellow footballers, with Chelsea's Ashley Cole, Didier Drogba and Essien among those who have visited him. It was made known that former England captain David Beckham had sent a personal message of support to Muamba, and Real Madrid sported "Get Well Soon Muamba" shirts before their game against Malaga.
Bolton manager Owen Coyle, who has joined club chairman Phil Gartside at the footballer's bedside for most of the past few day, spoke of the overwhelming amount of support for Muamba: "He is a lovely young man and he has such a fantastic smile, and that's what we want to see again.
"David Beckham sent a message from across the Atlantic. It shows the support for Fabrice as a person, not just as a footballer. You see Real Madrid with their T-shirts, and Gary Cahill, his former team-mate. It's just fantastic.
"We know what a humble person Fabrice is and the messages of support, the phone calls and the text messages from everyone in the Premier League, the Football League and beyond – which we've been passing on to the family – it is humbling to have that level of support. We are all hopeful of a positive outcome but as you can imagine it is a difficult situation.
"The family are bearing up as best they can. They are very positive people, as Fabrice is, and we're all hoping he came through this. You can feel the strength, unity and togetherness they and as a family they are showing that. It gives them incredible energy."
For their part the Football Association has dealt with the situation with great compassion, allowing Bolton a discretionary period in which to stage their rematch against Tottenham. Coyle has also made training optional for the rest of the Bolton squad.
Follow @CraveOnlineUK for the latest football updates and news