Chelsea defeated Barcelona last night (April 24) in a classic Champions League match, with heavily criticised striker Fernando Torres putting the final nail in Barca's coffin.
Despite defeating the Spanish club 1 – 0 in their first confrontation at Stamford Bridge, Chelsea remained the underdogs going into the second leg, with many believing that they would be unable to pull off a similar feat in Barca's home stadium Camp Nou.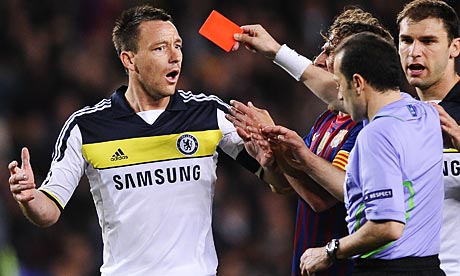 For a while that seemed to be the case after an unlikely goal from Sergio Busquets gave Barcelona an early lead, which was shortly followed by a red card dealt to Chelsea captain John Terry, who carelessly "ran into" the back of Cesc Fabregas. With the Londoner's defence missing a man, Andres Iniesta capitalised to make it 2 – 0, with the match slowly turning into a pleasant walk in the park for Barcelona.
However, Barca were forced to cut short their victory lap around the pitch when Ramires slotted in a spectacular goal to make it 2 – 1 just before half-time. The goal brought the aggregate score to 2 – 2, with Chelsea's away goal meaning that their only task in the second half was to prevent Barcelona from scoring – easier said than done.
Coming back onto the pitch after the break it was clear that interim manager Roberto Di Matteo (who Roman Abramovich should deeply consider to be the full-time manager after Villas-Boas's departure) had told his squad to play the defensive game, a tactic which made John Terry's abscence almost unnoticeable. With Barcelona's short-passing game unable to break through the myriad of blue shirts barracading the goal, the Spanish squad suddenly found themselves faced with the prospect of not making it to the Champions League final.
Barcelona had their chances – a spectacular penalty miss from Lionel Messi being one of them – but Chelsea remained too sturdy to penetrate, with an indomitable Petr Cech preventing any attack that his last line of defence couldn't.
As Drogba, who followed up his winning performance at Stamford Bridge with another commendable match, was brought off in the last 10 minutes for Fernando Torres, a chorus of boos echoed around the arena from Barcelona fans who no doubt recalled the striker's tormenting of them back in his formative years with Atletico Madrid. However, with the Spanish international's heavily criticised poor goal record for Chelsea, no one would have expected that he would be the one to seal the deal and catapult the English squad into the Champions League final in injury time. But that's exactly what he did, launching a counter-attack from his own half and gently slotting the ball in the back of the net, tipping the aggregate score in Chelsea's favour at 3 – 2.
Speaking after the match Torres said: "this goall's more special than any one before because it helped us to go the final.
"To be in the Champions League final is a dream come true for all the Chelsea players, for all the Chelsea supporters who come here and everyone watching the game at home."
Boss Roberto Di Matteo also had kind words to say for his team's astonishing victory, saying:"We were playing the best team in the world – they're amazing – and we were up against all the difficulties you could imagine in any football match.
"But we seemed always to find some reserves from somewhere, playing against the odds. The way we played and defended … we just showed a lot of desire to reach the final and go through. We had a little bit of luck as well, which we needed. But to win the trophy you need that.
"We've had a difficult season but we seem to always get something special out when we need to. I think that's part of the DNA of these players. It's quite incredible."
Chelsea will now face either Real Madrid or Bayern in the final, with both teams facing off tonight (April 25). Real Madrid are currently behind on aggregate 2 – 1.
Photos: Getty Images