Following a gripping semi-final between Real Madrid and Bayern last night that saw Bayern advance to the finals via a penalty shootout, Madrid boss and former Chelsea manager Jose Mourinho has spoken out in support of Chelsea, saying that he hopes they lift the Champions League trophy.
"Chelsea mean a lot in my life and I would like them to win the final," said the 49-year-old. "John [Terry] is missing, but Chelsea is there, which is the most important thing."
Terry will miss the final after being given a straight red in Chelsea's semi-final against Barcelona. He joins Ramires, Raul Meireles and Ivanovic, who were all dealt yellow cards. Uefa is currently deciding how long Terry's suspension will stand for.
"I just hope it's a good final," continued Mourinho. "Of course I want the Blues to win, but with all respect for the Reds. I think the Chelsea boys were absolute heroes [against Barcelona]."
"I know some people think Barcelona are the masters of the game and will criticise Chelsea like they criticised Inter two years ago, but they know nothing about character, about effort, about a team with 10 men resisting tactically, physically everything. That's why I have in mind the heroes of Inter and the heroes of Chelsea in this match. Chelsea deserve to be there."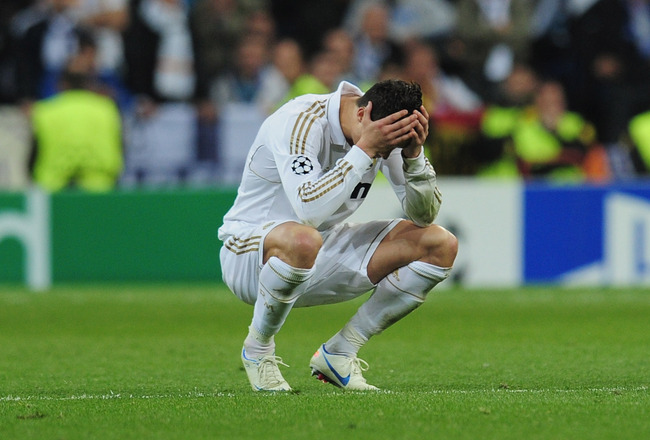 Mourinho's squad were left devastated last night (April 25) after their match against Bayern fell to a penalty shootout in which the Spanish side missed three out of four, with Sergio Ramos, Kaka and, alarmingly, Cristiano Ronaldo unable to find the back of the net.
However, Mourinho pointed to his squad's recent El Clasico derby game against Barcelona as a reason behind their failure to overcome Bayern, who were rested prior to the Champions League semi-final.
"We deserved to reach the final because we have been playing for the [Spanish] title," he added. "The final is the second team in Germany against the fifth team in England. I hope it's a good final. I hope they enjoy it, both teams. For Chelsea the second time. For Bayern the second time in 3 years, which is fantastic.
"I respect a lot these guys – Mr Heynckes and the players from Bayern, because they played a final against me two years ago and they lost fairly, like I lose fairly."
Bayern boss Jupp Heynckes spoke of his squad's unlikely victory against the top-tier Spanish club, saying: "It won't be a surprise we are in the final. Bayern Munich in this Champions League has had great matches against great teams. We proved today we are a great team. We are very strong mentally, physically and as a football team."