Only about half of fantasy owners end up making the playoffs; that's a fact. Heck, that figure might be generous.
But if you're like me, you're part of the half that didn't make your fantasy playoffs this year.
If you're like me, you got screwed over by guys like this: Fantasy Football's Worst Of The Year
If you're like me, you're trying to figure out how to fill your time now that fantasy football season is over.
Here's what I'm going to do.
#1 Study up on fantasy baseball

That's right. Ask my girlfriend if the 'fantasy cycle' ever ends. She'll give you a 'Mckayla Maroney is disappointed face.'
If you're really into fantasy sports, you know that fantasy baseball is the real man's game. Think it's fun changing your lineup once a week in football? Try doing it every. single. day.
The winter meetings are underway in Nashville, so between trying to figure out who will overspend for R.A Dickey and Josh Hamilton, we can also take bets on how high to draft Mike Trout next year.
Or you know what? It's winter. We could watch real games. You know, the kind that counts in real life — the NFL still has games every Sunday. You can watch just for fun, with no invested interest from fantasy… ya, I'm searching fantasy baseball podcasts now….
#2 BCS Bowl Pick 'em

How 'bout dim NIU Huskies!…
and other random encounters of the D-II kind.
Well, they're not really D-II schools, but some casual fans might mistake them for being as such. The Northern Illinois Huskies are crashing the BCS, earning a spot in the Orange Bowl to face the Florida State Seminoles. Toss in some Toledo vs. Utah State Famous Idaho Potato Bowl action, or some Kent State vs. Arkansas State GoDaddy.com Bowl action, and what you get is a hootenanny of fun in betting on the most unpredictable of college football games.
Because in the end, we all know who will win the BCS National Championship (insert wink face here).
#3 Catch Up On 'The Walking Dead'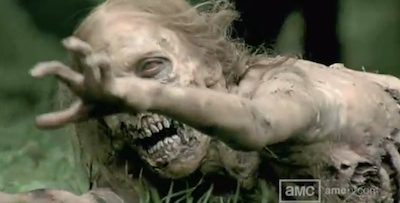 …or 'Breaking Bad,' 'Dexter,' 'Mad Men'… take your pick.
With no invested interest in football games anymore, do some channel surfin. Now's the time to catch up on all your favorites. Me — I'm watching zombies on AMC. And no, they did not pay me to write this excerpt. It wouldn't be the holiday season without some flesh eating apocalyptic drama.
#4 Christmas Shop

…on the internet, of course. God help all of you who actually go to shopping malls this time of year. And if you're going to go, make sure you have a hot babe there — such as Rihanna, above — to light up your Christmas tree (literally speaking of course).
#5 Get Fat
OK. Not really. But kind of. If you're not putting on a little winter weight by eating all that pumpkin pie, ginger bread men or any other famous holiday treats your family beholds, then something's wrong with you. Get eatin'. Just be sure to work it all off again before bathing suit season.

Josh Helmuth is the editor for CraveOnline Sports. You can follow him on Twitter @JHelmuth or subscribe at Facebook.com/CraveOnlineSports.
Photo Credit – Baseball: By: Michael Zagaris – Collection: Getty Images Sport
Rihanna: By: Gareth Cattermole – Collection: Getty Images Entertainment
Lone Fan: By: Andy Lyons – Collection: Getty Images Sport